Tomorrow marks the one-year anniversary of Donald Trump's inauguration, and we're just hours away from a government shutdown. That tells you all you need to know about how dangerous and destructive this presidency has been.
Republicans control the House, the Senate, and the White House. Any government shutdown falls 100% on them. In fact, there has never been a government shutdown when one party has controlled the White House and both chambers of Congress.
This Republican recklessness is hurting our military and veterans, children who need health care, and Dreamers who deserve compassion and the chance to stay in the only country they've ever called home. It's hurting retirees and community health centers, people in need of opioid addiction treatment and communities in Florida, Texas, Puerto Rico, and California that are still recovering from disasters.
This is Trump's Republican Party: Chaos, incompetence, and moral failure. Democrats want a deal. We are at the table. We have put forward bipartisan agreements but Trump and Republicans refuse to work towards a deal. They are bringing us to the brink.
But Democrats will continue to fight for the values of the American people. On Monday, I was honored to speak about those values, Dr. King's legacy, and the need for moral leadership at the National Action Network's MLK Day Breakfast.
The question of moral leadership is front and center in the battle to protect Dreamers. Instead of leading on this issue, Donald Trump has decided to betray every promise he made to Dreamers and their families. Trump said he loved Dreamers and would "show great heart" on DACA. Those were lies. Ending DACA like he did was nothing but heartless and hateful.
Dreamers are our neighbors and friends, our classmates and co-workers. The clock is ticking, and their futures hang in the balance. I wrote an op-ed in the Seattle Times about the importance of passing the DREAM Act and protecting these young people. You can read a Spanish-language version of the op-ed in Univision.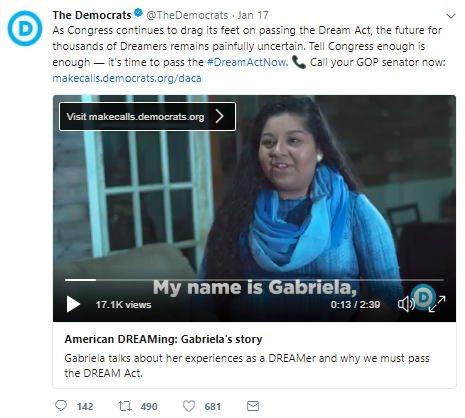 I also sat down with Soledad O'Brien this week to talk about how Democrats are putting our values into action every day through our #DemsforYou program, and how we've been hard at work rebuilding the New DNC to win elections up and down the ballot across the country. You can watch that interview
here
.
As we hit the one-year mark of Trump's presidency tomorrow, it cannot be overstated how harmful this administration has been to our economy. From breaking his promises to workers to passing a tax bill that rewards only the wealthiest, Trump has made it clear that he is president of the 1%, for the 1%, and by the 1%. I wrote a memorandum about the president's first year of destructive economic policies on our Medium account this week.
The best way to combat Trump and the GOP's radical policy agenda is to elect Democrats across the country. That's what we did in 2017, and we're not showing any signs of slowing down. On Tuesday, we won two more elections in Wisconsin, including a state Senate seat that hasn't been occupied by a Democrat in nearly 20 years, in a district that Trump won by 17 points in 2016.
We have now flipped 34 state legislative seats in the last year. The message is clear: voters are rejecting Trump. And if Democrats continue to organize and lead with our values, we can win anywhere.
As we continue to win elections, we're also focused on making sure that our presidential primary process in 2020 will be the most fair and transparent in our party's history. The Unity Reform Commission's work is critical to moving us forward and restoring voters' trust in our party, and I spoke today to our Rules and Bylaws Committee about why it's important for them to adopt these recommendations.
Finally, I want to leave you with a few words about a special member of our Democratic family who we lost this week. Paul Booth was an organizing icon, a titan of the labor movement, and a lifelong champion for working families. We are deeply saddened by his passing, and the thoughts and prayers of everyone at the DNC are with Paul's colleagues at AFSCME, his wife Heather, and the entire Booth family at this difficult time.
When Paul was just nine years old, he starting handing out leaflets during the 1952 presidential campaign. Once he got a taste of activism and organizing, he never looked back. From his days standing up to apartheid in South Africa and fighting for factory workers in Chicago to his decades of leadership at AFSCME, Paul devoted the rest of his life to organizing for the civil, social, and economic rights of all people. And in 2016, we were honored to have Paul serve on the DNC committee that drafted the most ambitious and progressive platform in our party's history.
Throughout his life, Paul preached the principle of solidarity and urged everyone around him to be "missionaries" for the labor movement. Over the course of more than five decades, he and Heather have inspired generations of activists to continue organizing for social and economic justice.
When he spoke about the battles ahead – for better wages and retirement security, for the right to organize and bargain collectively, for the justice, equality, and economic opportunity that everyone deserves – he liked to say, "We are in this together. We will fight it together. And we will win it together." With Paul's legacy as our guide, we will carry on the fight for a better future together.
Best,
Tom
––––––––––––––––––––––––––––
Tom Perez
Chair
Democratic National Committee