Dear DNC Member,
It's been a whirlwind week here as Republicans in Congress have tried to ram through their disastrous tax bill. This is nothing more than a scam that was written for Donald Trump and his wealthy friends, not for hardworking American families.
This bill would hurt workers and small businesses, students and teachers, homeowners and older Americans; it would take away health insurance from millions, make it harder for people to save for retirement, and devastate our economy while adding more than a trillion dollars to the deficit over the next 10 years. In fact, while Republicans try to give big corporations and the top 1% another massive windfall, their plan would raise taxes on at least half of Americans.
Voters won't forget this betrayal on Election Day. And as Republicans continue to turn their backs on the people they're supposed to represent, Democrats will keep fighting to build an economy that works for everyone.
As Republicans in Congress try to raise taxes on the middle class, President Trump continues to make disparaging remarks toward the Native American community. At an event Monday that was supposed to honor Navajo code talkers in the Oval Office, Trump decided to use a racial slur, calling U.S. Senator Elizabeth Warren "Pocahontas." These code talkers deserve our nation's praise and gratitude, not a president who disrespects the Native American community and dishonors Native American veterans. What Trump displayed this week was an embarrassment to our values and a disgraceful insult to the heroes of our history.
We also saw more important developments in the Russia investigation with Michael Flynn's guilty plea and decision to cooperate with investigators. This time, the president can't get away with claiming these charges aren't about his inner circle's contacts with Russia, and he can't dismiss his former national security advisor as some low-level aide.
This development should serve as a clear signal to Republicans in Congress that it is time to take this investigation seriously and stop making excuses for the president's attempts to interfere with it.  Democrats will not stand by as Trump's enablers in Congress betray the American people, undermine our democracy, and endanger our national security. It's time for Republicans to commit to protecting this investigation and preserving the rule of law."
On this week's episode of Democrats Live, Keith Ellison hosted DNC Associate Chair Jaime Harrison and Lori Lodes, the co-founder of Get America Covered. They discussed open enrollment, why it's important, and how we can continue to shield our health care law from sabotage. Check out the latest episode at live.democrats.org.
Finally, I headed out to Rhode Island to rally Democrats at the state party's fundraiser this week. 2018 has the potential to be a huge year for Democrats. People are talking about a blue wave. But we can't just cruise and wait for a wave to carry us to victory. We have make it happen. We have to build that wave ourselves. We've got to organize.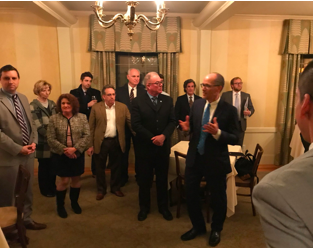 We've been focused a lot on turning red states blue. That's critically important, and we're already making remarkable progress. But we also need to hold our ground and keep making progress in states like Rhode Island, where we control both chambers and the governor's office.  It would be a big mistake to take the governor's office for granted. That's exactly the kind of mindset that opens the statehouse doors to Republicans. Just look around the map.
Every state north of Rhode Island has a Republican governor. And before Governor Raimondo, you have to go back to 1992 to find the last Democrat elected governor of Rhode Island.
So we've got work to do. Politics isn't a spectator sport. The wind is at our back, but the only way we'll win is if we field a full team that's ready to work together.
As we head into the holiday season, I want you to know how grateful I am for your tireless work on behalf of our party and our country. Thank you, again, for all you do.
Best,
Tom
––––––––––––––––––––––––––––
Tom Perez
Chair
Democratic National Committee