Week 28: Donate to Hurricane Relief
The past few days have been devastating for our friends in Puerto Rico and all those in the path of the hurricane Maria. Please consider donating to the Red Cross to help those affected if you can.
Democrats have been united against the latest GOP health care repeal effort. And Senator John McCain's dramatic announcement today that he will not vote for Graham-Cassidy has carried the bill one step closer to defeat. But the fight isn't over yet. We need to make sure Trumpcare ends up in the dustbin of history where it belongs once and for all. While Senate Democrats held countless hearings, accepted more than 180 Republican amendments, and debated the Affordable Care Act for over 160 hours on the floor, Republicans will vote on a bill with little if any debate and without a CBO score or basic knowledge of how many millions of Americans will be hurt.
If doctors made health care decisions for patients without knowing the consequences, they would be sued. But that's exactly what Republicans are doing right now. This is not regular order – it's malpractice. And any member of Congress who supports this sham deserves to be voted out of office. Millions of Americans would be at risk, so we need as many voices as possible to defeat this life-threatening bill.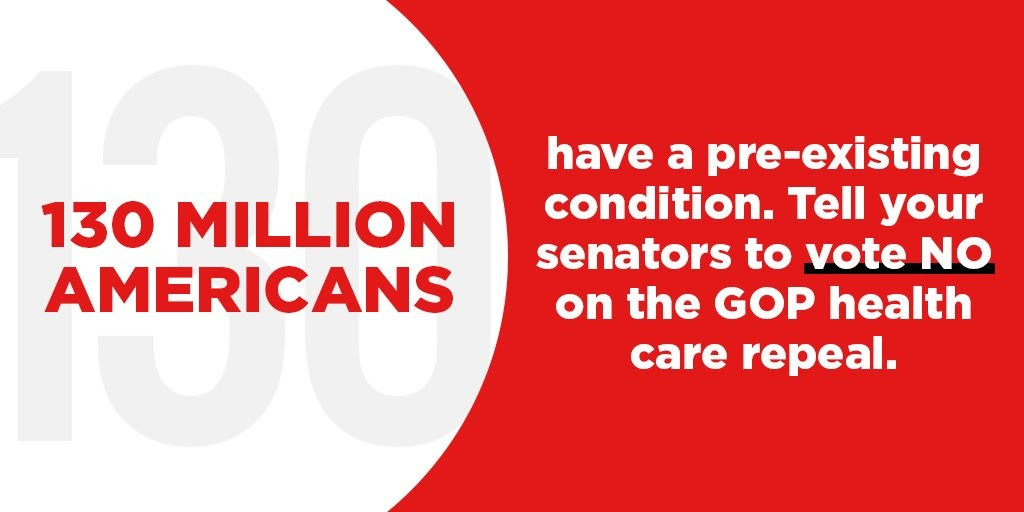 One of the most troubling aspects of this bill is its lack of funding for opioid addiction treatment. Opioid addiction is taking lives and tearing apart families. Instead of fighting to address the problem, Republicans in Congress want to ram through this partisan bill to take away people's health care and slash billions in funding for addiction treatment. More than six weeks after calling the opioid epidemic a national emergency, President Trump has done nothing to help those affected. Now he's leading the Republican charge to strip protections and resources from the working families who need them most.
This issue knows no party. From New Hampshire to Nevada, the opioid crisis has ravaged communities across the country. We cannot sit idly by while Republicans choose cruelty over compassion and destroy the lives of millions. We must elect more Democrats to fight this urgent crisis with the urgent action it demands.
We'll have the chance soon with Election Day 2017 is less than 50 days away. Things are heating up in Virginia, where our candidate for governor, Ralph Northam, had a tremendous debate performance against his opponent on Tuesday night. Northam has spent his life as a public servant, while Republican nominee Ed Gillespie has made a career serving big corporations, special interests, and himself. Hard-working Virginians need a candidate that will support them and their families. Ralph Northam is that candidate.
But the Virginia governor's race is just one election where voters are flocking to Democrats. Our CEO Jess O'Connell and DLCC Executive Director Jessica Post published a piece on TIME.com about the recent string of Democratic victories in special elections across the country, including in some deep-red districts where Trump won handily in November. From New Hampshire to Oklahoma, the American people are sending a loud and clear message: Democratic values are American values.
So much is at stake in these elections. Working families deserve a better deal from their representatives. They deserve a better deal on health care and housing, on wages and workers' rights, on education and retirement security. And as our incredible National Political and Organizing Director and new mother, Amanda Brown Lierman, wrote in a Medium post this week, working families deserve a better deal on child care. Democrats are offering that better deal, and the American people are responding at the ballot box.
This week also marked the start of the Jewish New Year as communities in America, Israel, and around the world began to observe the Jewish High Holy Days. From the beginning of Rosh Hashanah to the final sealing on Yom Kippur, the Days of Awe are a time for reflection, repentance, and renewal.
Over the past year, we've seen how fear and hatred can divide our country. But while each new year brings new challenges, the DNC will always be a steadfast partner to Jewish communities as we combat anti-Semitism and all forms of bigotry, and as we continue the work of tikkun olam.
Finally, we are less than thirty days away from our October meeting in Las Vegas, Nevada. Last month we released our DNC Member Fall Action Plan: five concrete actions that members could take to help us win in November and beyond. As we gear up to meet in October, I want to touch base again on the progress of the plan with everyone next Friday, September 29th at 5pm ET.Please join me for the call.
During the October meeting, we'll be appointing our 75 at-large DNC members and reappointing our four DNC standing committees. Many of our members have already shared their recommendations, and I'm encouraging everyone to participate to make sure we choose the most diverse and representative group as possible. If you have not shared your at-large candidate recommendations already, please do so by completing this form no later than Friday, September 29th.
Yours,
Tom
––––––––––––––––––––––––––––
Tom Perez
Chair
Democratic National Committee